Menhaden Resource Efficiency PLC ('MHN') is a UK-listed investment company that seeks to generate long-term shareholder returns, by investing in businesses and opportunities, delivering or benefitting from the efficient use of energy and resources.
Menhaden Resource Efficiency PLC Characteristics
Market Cap: £75.1m*
Net Asset Value: £118.4m*
Exchange: London Stock Exchange – Main Market (Premium Listing)
Launch Date: July 2015
Ongoing expenses: 1.8%
*as at 31st October 2023
How Do We Invest?
We run a long only, multi-asset investment strategy which seeks to provide the best balance between risk & reward across equity, credit & private universes. Whilst we operate with a global mandate, we tend to focus on US and European markets. We invest for the long term and aim to hold our positions for many years. Our portfolio is concentrated, usually with 15-25 positions, and the highest conviction ideas can represent >10% of NAV each. As a management team, with significant capital invested alongside shareholders, we are fully focused on long term value creation.
Our strictly bottom-up investment process is based on three key criteria: 1) Resource Efficiency; 2) Quality and 3) Value.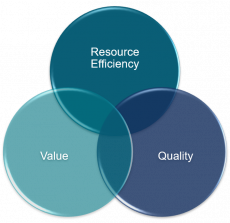 1. Resource Efficiency
Businesses which are focused on using resources more efficiently
Pragmatic approach which recognises companies working to reduce their environmental footprint
2. Quality
Cash flows which are predictable, resilient and sustainable over the long term
Competitive moats underpinned by genuine barriers to entry
3. Value
Reasonable valuations considering the quality of the business & its prospects
Asymmetric risk-reward pay-offs